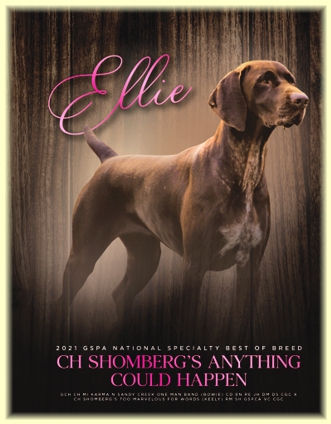 Presenting

CH Shomberg's Anything Could Happen
"Ellie"

Another homebred GSPCA National Specialty Best of Breed winner from Shomberg!

Breeding exceptional representatives of our breed for 48 years.

Equally at home in the conformation ring, the bird field, or in the arms of a child, Ellie is proudly owned and loved by Evan Tzanis and Dr. Nia Tatsis.
---
AKC BREEDERS OF MERIT


Sharon and Steve Dattilio would like to welcome you to the Shomberg GSP web site. We sincerely hope that your visit with us helps to answer some of your questions about German Shorthaired Pointers. We also want to give you some insight into the various aspects of how we came to be "Shomberg" and why we consider our genuine love and respect for the breed so very important to its future.

2007 NSS
We are thrilled to have so many brags and great pictures to share from the 2007 GSPCA National Specialty Show & Futurity, in Ft. Mitchell, KY.

We are so very proud of every Shomberg puppy, and dog, and we would like to express our sincerest appreciation to each and every owner who allowed their dog to be showcased at this prestigious event to represent SHOMBERG.
Please click here for all the details.
---
National Show Champion
Multiple Best In Show
Best In Specialty Show
Ch. Shomberg's Some Like It Hot ROM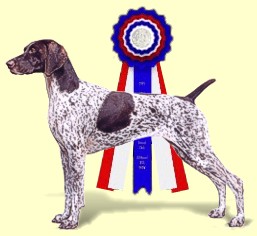 "Monroe"
Click to read about Monroe

2007 GSPCA Show Dam Of The Year

Monroe won her 4th. GSPCA National Specialty Show
Award of Merit at the Nationals in Phoenix, AZ
under respected judge, Mr. James Reynolds.
Monroe went right down to the final cut in a field
of over 68 champions to bring home this coveted award
and we are extremely proud of her and
thankful to Patty who presented her so beautifully.

See Monroe highlights from 2005.

Monroe was ranked #2 GSP in national standings
for 2004, having won the GSPCA National Specialty
Best of Breed and Top Twenty-Five Award
(a first for the same dog) as well as the
Eukanuba Classic Invitational
Best of Breed winner.

Monroe was ranked the #1 shorthair
in conformation for the year 2003
by the German Shorthaired Pointer Club of America.

---
A N N O U N C E M E N T S &
---
S H O M B E R G N E W S
Click a news item headline for details.