Introducing
From the CH Shomberg's Browning Citori
X
CH Windriver Simple Twist Of Fate JH litter.

Crestone N Shomberg Revolution "J"
(formerly known as "Uno")

Breeders: Doris and Dan Schoenfelder & Jim and Gloria Eustace

"To say that this boy is a clone of his father is
an understatement. And so it is only fitting
that he be called "J" for junior.

Beauty, Brains and a Temperament To Die For.

"J", a name to remember. He will have an
exciting show career, for sure."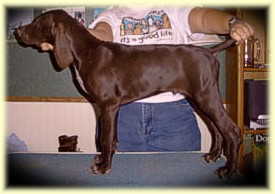 And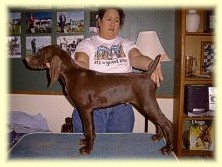 Crestone Ticket To Ride "Ringo"
(formerly known as Cinco) has also stolen our hearts!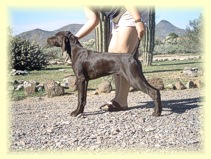 "Ringo"
~~~
Of course, we're thrilled with the rest of "The Beatles" too:

Dos: Crestone Do Ya Wanna Kno a Secret "Secret"
Apache Junction, AZ

Tres: Crestone Eight Days A Week "Mini"
Queen Creek, AZ

Cuatro: Crestone Hard Days Night "Falco"
Ronan, MT

Seis: Crestone Let It Be "Jake"
Chino Valley, AZ

Seite: Crestone Abby Road "Abby"
Awatuke, AZ

"The entire litter will eventually be making appearances in the show ring! We plan to storm the 2005 GSPCA Nationals!

This litter has been such a joy! We've enjoyed them so very much and are most grateful to Sharon, Steve and Marco for this wonderful gift they have given us. These puppies have personalities like none we have encountered in our 20 plus years in GSPs. They have hearts of gold and bring endless joy and laughter to their families. In addition to the wonderful puppies, we have also enjoyed becoming a part of the Shomberg family. The support we have received has been incredible! The commitment and love the Dattilo's have for the breed is so very inspiring to us."


DJ Schoenfelder
Crestone German Shorthaired Pointers
Tennessee Walking Horses
"Not a passport to riches but a labor of love"