In June Polo finished his Excellent Standard Agility title. AX
Of his 3 legs two were first place 24" wins and the other a second place. This is the Excellent A class.

Sunday - Sept 5th he finished his open Jumpers title with a first place 24" class win. All perfect run score of 100's.

Sunday he also ran with the big boys in Excellent B - He qualified with a perfect score. This was the first time he ran in Exc B and the Q gave him his first points towards the long road ahead to his MACH *!*!*!* (now we can start counting those points!!)

Polo's latest agility shot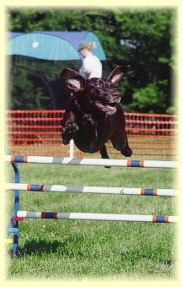 Polo takes the Triple Jump!
"Thank you for making us such proud grandparents. Very remarkable accomplishments!" --Sharon and Steve