Steve and Sharon proudly present
the new litter of puppies at SHOMBERG.
Five boys and four girls were born during the late hours of February 8th, 2003 and into the morning of the 9th. All pups are solid liver with assorted white markings.
Pictures from 03/02/03

Informal Photos

Pictures from 3/15/03

Read about the sire and dam below

Puppy Update 2/26/03: It has been an extremely busy time around here these past 2 weeks and while we had hoped to have some photos up for everyone to see, it just hasn't come about yet. Hopefully, we'll get something onsite for everyone to see very soon.

The puppies are doing very well and are now roly-poly little wonders who are becoming increasingly aware of their world. Eyes began to open on Saturday (02/22) and all are open now; though vision is not terribly clear and sharp just yet. Still they are precious to see when they look up at you with those dear, little faces.

They have begun to walk around their box now though still a bit wobbly and they always get to where they are going. These next few days they'll discover their indoor "yard" and will soon learn to relieve themselves in the "great outdoors" ( their paper-lined pen) rather than in their box where it is safe, warm and cozy and where their mother cleans them fastidiously.

Mother, Charise, is very attentive and meets their every need while I spend my time cleaning, laundering their bedding and cuddling them - -
a must do in my book :-))

This weekend they'll be 3 weeks old and will begin to be introduced to puppy gruel individually as they learn to eat from a small bowl. As they become more proficient at eating their food, they will soon begin to eat as a group, which can lead to some great photo opportunities as well.
They are beautiful and healthy and we are excited to watch these "little indians" as they continue to entertain us and supply us with that wonderful perfume that we, as breeders, know as "puppy breath".

More updates to follow ... Sharon

---
Ch. Scattergun 'N Shannon's Firekeeper ("Simon Keeper Crowley")
(Ch.Fieldfine's Pride 'O Scattergun SH x Ch.Riverside's Runaround Sue JH)
Simon was bred by Ginger & Tim Cerniglia. Owned and loved by Patty Crowley

Ch. Shomberg N Partrdge Run Dark Duet ("Charise")
(Ch.Shomberg's Browning Citori x Ch.Starlite's Calamity Jane)
Bred by: Steve & Sharon and Pat Williams. Owned and loved by Steve and Sharon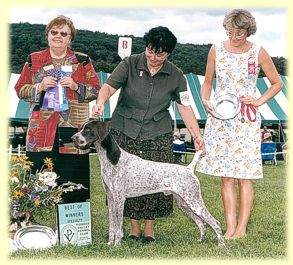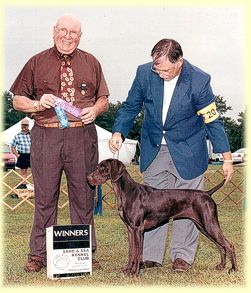 "Simon" is a lovely boy of nice size and extremely nice conformation; we feel a perfect compliment to Charise. He has nice bone, lovely neck going into great shoulders and a very nice topline. His gait is free and flowing and he moves effortlessly and with purpose. He has nice substance overall and is very masculine while not being overdone in any respect. He has a beautiful dark eye with lovely expression and a blaze on his face. Simon has what we term an "open body" with no body patches but he is heavily ticked and very handsome; somewhat darker in color now than his picture shows. He has great natural instinctive ability in the field and will soon be going for his hunting titles. He is a happy, affectionate and very good natured boy who gets along well with people and other dogs; a truly exceptional personality. Simon is a gentleman in the home and exhibits his good nature and willingness to please on a daily basis; a truly lovely dog and a pleasure to be around.

"Charise" is a standard size bitch with a very dark liver coat and correct coat texture. Her conformation is exceptional and her bone very good in relation to her overall substance and she is quite frankly one of the best shorthair bitches we have ever bred and owned. She has lovely dark brown eyes, a pleasing head with great expression and she has lovely shoulders, topline and tailset. She has an affectionate and loving disposition and can be perfectly at home on the sofa or be absolutely awesome on upland game afield. She has a calm demeanor in the home and is extremely smart and alert to her surroundings. She is well behaved and eager to please and we have no doubt that she will be not only a loving mother but also pass on her wonderful qualities to her puppies as well. See additional pictures of Charise below.
We're very excited to have this breeding and we are confident that the pups resulting from this combination will be outstanding representatives of the breed in every way. Nominated for the 2004 National Show Futurity in PA.

Health, temperament and quality guaranteed as always. Both sire and dam have health clearances in place. Simon is OFA Good (hips) and CERF (eyes) clear. Charise is OFA Good, CERF clear, Cardiac normal and thyroid normal.
Serious inquiries invited and welcome.
To see an illustrated guide to puppy development click here.