Ch. Shomberg's Pawnee Love Song CGC JH
("Maggie")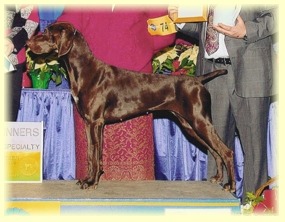 Pictured also in our
News Column in several places


X





Click on pedigree to view

Am/Int CH AlaJazz
West Palm Beach Point, JH
("Palmer")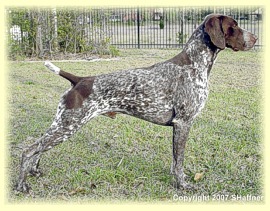 Owned by Stephanie Haffner
of AlaJazz GSPs

Maggie is a multiple GSP Specialty winning bitch who easily completed her AKC championship under the skilled guidance of professional handler, Tina Parker-Craig.

She is a social and affectionate dog that is always up for any activity and she is now working in agility and obedience with her owner, John, who says that she loves it and does it all with ease and enthusiasm.

After this pregnancy John hopes to continue to work Maggie through to her AKC Senior Hunter, obedience and agility titles as well. He will readily tell you all of Maggie's exceptional attributes and declare that he is not one bit partial when it comes to "his once in a lifetime dog."

Maggie is exceptionally smart and quick to learn. She gets along with everyone she meets and that includes other dogs. Her temperament is an exceptional part of her overall character and her lovely structure completes the package. We expect lovely puppies from this breeding that will combine two well-known and longstanding bloodlines that are known for beauty, brains, natural ability and trainability.

We are excited and eagerly await the birth of another generation of beautiful shorthair puppies that will make Shomberg very proud indeed.

Palmer is the sire of an AKC and Canadian Champion, a puppy with a 5 Point Major win at a Specialty Show, multiple puppies with legs toward their Hunt Test Titles, a puppy with a field trial placement and several more with points toward their championships, and all of these wins are from his first litter which is just 13 months old.

Palmer is a GSP Specialty winning dog who completed his AKC Championship breeder/owner/handled from the Bred-By Class. Palmer's good nature makes him very endearing to be around. He is a showdog, bird dog, and playmate to his two legged toddler. He is fun-loving, with tons of attitude and showmanship. He is so perfectly balanced that he is able to walk himself into freestacks with ease. His beautiful head shows off his soft expression. He is a moderately sized dog who fits tight in his skin and has correct breed type. Palmer has a keen enthusiasm for the field, where his natural ability enabled him to earn his Junior Hunter title in 4 straight tests, breeder/owner/handled.